The Little Sisters of the Assumption congratulate VIVAT INTERNATIONAL on their 20th Anniversary!
On November 18, VIVAT International will celebrate 20 years of service to the most vulnerable.
The 12 member congregations of VIVAT International, in accordance with its charism and mission, are working to promote Integral Human Development in more than 120 countries.
They are united in VIVAT to make their presence strong in international forums, such as the United Nations.
In this way, we bring cases of human rights violations to the attention of the public.
We try to influence international agendas so that no one is left behind in the construction of a more just world.
Since 2016, VIVAT International Spain, formed by 7 religious congregations, is constituted as a platform around our common mission with migrants.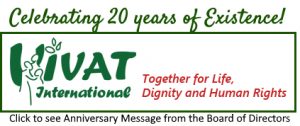 As a result of this advocacy work, we have presented a report to the Universal Periodic Review (UPR) of the United Nations in Geneva, stating that the Immigrant Detention Centers (CIEs) are useless and requesting the referral of irregular immigrants to reception structures.
In this way we commit ourselves to conjugate the verbs: to welcome, to protect, to promote and to integrate as Pope Francis invites us.
                                                                                                                                                                                                                 Vivat International