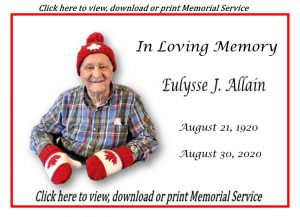 We offer our prayers to the family of Sr. Annette Allain as they bid farewell to their beloved father of 100 years!  He was a father figure to many of the extended family and beyond.  He was born on August 21, 1920 and returned to join his beloved, Josephine, on August 30, 2020.
The Memorial Service will be live-streamed from Massachusetts on Friday, September 4, 2020 at 11am (Eastern Daylight Time ).  You are invited to attend by clicking on this link:  http://allain.edifymultimedia.com  and signing in the guest book with your email.
The service will be in English with some readings and hymns in French to honor his Acadian heritage.  Music has been a large part of his family's life, therefore, thanks to technology, most of the music will be provided from a distance by their Canadian cousins and his granddaughter, Tina Gaudet Lorenzen.  ALL ARE WELCOME.
His obituary and photos can be viewed at https://www.currentobituary.com/obit/247122
The bi-lingual Memorial Service is available to view, download or print by clicking on his photo above.